Hello friends! I'm celebrating Leap Day today with a sale in my TpT store! Stop by and pick up a few great products to help you get through the spring season!
Do you need a few fun ways for your students to practice math skills with multiple choice questions?
Check these out:
My students love practicing with these cards! I love them because we get in a little practice before our state assessment with how to answer multiple choice questions in math!
Have an amazing day!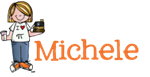 0