Happy Wacky Wednesday fellow bloggers and followers! It has been a wild week of weather, and weird student behavior! I was so happy to find Kristen and Elizabeth were trying to put a little bit of organization back into my life after the chaos.
Today I'm sharing a quick way that I take attendance in my classroom.
We have to report attendance electronically through our SchoolTools account. So I don't have to send envelopes to the office etc... but I still like to shake it up and make it interesting. When I got my Smartboard many years ago I had the custodians move my dry erase board to the back of my room. Lucky me, ALL of my walls are magnetic... I am the MAGNET QUEEN!! This year I found these cool magnetic Tshirts from Really Good Stuff.
Sorry they are blurry.. protecting names and all that fun stuff..
Do you evey buy anything from them? They do have REALLY good stuff! Every day I ask my students a question to take attendance. At the beginning of the year I ask them things about their families or homework.. or getting to know you style questions. As the year progresses I let them begin to write the question for the next day. I teach them to move their magnets as they enter my classroom. The board is literally right next to the door. Easy Peasy.. This really helps when I have a sub. With so many other things going on in the morning, attendance is difficult for a sub. With my board, it has become a habit with my smarties and it is easy to take attendance. It is also helpful when I have a student who is absent. As work is returned or collected for the day, I place the absent student's magnet on the back wall. Everything that is that student's gets placed under the magnet, and they know to collect it the next day when they move their attendace magnet. No more folders or keeping track of whether a missing student got the worksheet. It is all under their magnet, waiting for them to return.
Next year we are going to use these...
Aren't they cute!!... I think I may have a tiny obsession with my CHUCKS! But my smarties this year think they are great...it is definatly something that defines me.......that and coffee cups! :) I'm going to write each student's name in NEON SHARPIE.. I love that I found those at Staples this year. I ordered the business magnets from Vistaprint with a great Groupon deal. I also got a stamp that looks similar for stamping Agendas at the beginning of the year.
When I was teaching lower grades I did the same type of attendance, except I had to provide a lunch count to the cafeteria, so I didn't get to ask any fun questions. We just did hot, cold, home lunches. I used wooden stars from Hobby Lobby that I painted and attached a magnet to the back of. I mounted a magnetic baking sheet to the wall, and it served the same purpose.
Do you have any great organizational tricks of the trade? I am always looking for ways to become more efficient. If so, be sure to stop by and see Kristen at
Ladybug's Teacher Files
, or Elizabeth at
Fun in Room 4B
and share your tips!
I'm looking forward to hearing about them!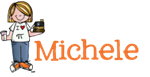 9