Hello friends! We made it through the week without a snowday! That's pretty big news for us. We have already used the two snow days our district allows, and I don't want to give up any of our break. We already are going to school until the end of June, and well friends, that's softball season! I don't want to be adding extra school days!
I'm linking up with
Doodle Bugs
for Five for Friday!
1. Center Time: A week or two ago I blogged about having the epiphany of creating more than just 5 centers for the week. I tried to put together about a nine center rotation knowing it would take me 12-14 days to get through. We always have interruptions for this or that.. or I forget something.. or a whole group lesson takes longer than I planned. You teach, you get the gist! Well, this past week we really worked on getting our centers in rotation. I'm happy with the progress we made.
This is one of the great boys in my class. He is working through a Snowman Synonym packet from
Tales Along the Yellow Brick Road
. This is fabulous for center work. It is differentiated, so you can choose what your students can do.
2. We also used centers from my
Chinese New Year for Upper Grades
pack. My class really needed extra practice on combining sentences and pronouns. I figured a fun way to do these more tedious tasks was to incorporate a little holiday celebration into the mix!
3. We started a new novel, The Lightning Thief by Rick Riordin. I love this story. It is a perfect companion to the ancient Greece social studies unit that we just completed. My students read the first chapter as a cold read, came into class and did a Carousel of Quotes activity.
Don't mind the sepia picture, I've been playing around with my camera. <hee hee> Have you used Carousel of Quotes before? You find important quotes within the story/chapter and write them on chart paper. Students wander the room, read the quotes and then write what they notice and wonder. Each quote that I used provides evidence about Percy Jackson's character, so my students wrote about what they noticed about Percy, and then what that made them wonder about. They loved it!
4. Tomorrow my Syracuse Orangemen are playing Duke in a huge rivalry basketball game! There will be over 35,400 people at the Carrier Dome. The game is going to be so exciting. I can't wait!
5. To celebrate this awesome game and of course that other important football game this weekend, I'm having a sale in
my TpT store
. Every item will be 20% off. If you've been looking to add a little something, this is a great time to go over and grab it. There are center activities for ELA and a bunch of foldies and task cards for interactive notebooks in math.
One of my favorites is my integers task cards. I'm currently teaching this subject in my class, and my students love the phrase task cards. I can use them in a whole group, or set them up as a sorting center.
Some of my blogging buddies are having a sale this weekend too! Check them out below!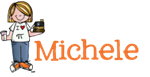 1