Today I'm linking up with Holly at
Fourth Grade Flipper
for a little Tried it Tuesday!
I haven't really tried anything new this week in my classroom. If you read my Sunday post, you know that I'm in the last week before assessments, so we are staying low and steady on the course. I wanted to share with you an app that I started to use to track my exercise and eating habits. It's called
LOSE IT.
I have totally been lazy this winter. Our days have been so cold and snowy that I have basically stopped exercising and I can totally feel it right now. This app allows me to set a goal for weight loss and how many pounds I would like to lose per week. Then I add in all the food that I eat during the day and it keeps track of the calories.
I like that I can scan a food item as well. So if I can't find it in the food search I just scan the item's barcode and it tells me the count. I did that for the yogurt I had for breakfast since it is a store brand.
I also like that it tells me my meal calories. I always try to eat more at lunch time, and math geek that I am, I also like circle graphs!
When you sign up for an account (which is free) it will link the information from your app to the computer automatically so you can keep track of your info.
Now me being a competitive person,... sometimes... well basically with myself,... I like that there is a little box that tells me if I am over or under calories. I like to keep in the green which means it is always under. It keeps me in check too. For example, I KNOW I want a little ice cream tonight after dinner. It motivated me to walk/run a little extra on the treadmill so that I would stay in the green. Little things my friends, little things!
I've been using the app for a few days now and it has motivated me to run/walk at least two miles every day.
I'd love to hear what you have tried and what has helped you stay healthy! Drop me a line and let's keep each other motivated!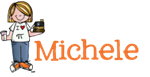 9